About the Company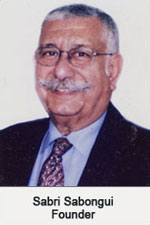 It was my father, Mr. Sabri Sabongui, who in 1962 decided to start his own business and established our family company with a passion for industrial and technical products to serve the growing industry and its needs in Egypt.
My father and our office were among the pioneers in Egypt who started representing various leading bearings manufacturers from around the world; companies such as Steyr Waelazlager (1962), INA Waelzlager (1968), ZKL-ZVL (1968) and NSK·RHP (1994).
In 2012, it was exactly five decades that our office consisting of 18 professionals has been actively and continuously supplying, selling and advising clients throughout Egypt, identifying their needs for bearings and other industrial supplies and providing technical support and recommendations covering the different areas of applications and industries.
Today and after five active decades our office continues to carry on in the steps of my father and continues to be fully committed in providing best service, support and advice to our clients, working hard to retain their trust and satisfaction.
I would like to thank all our clients and business partners for the strong and long-lasting relationships, the trust and confidence they continuously give us and we commit ourselves to continue to be a responsible, professional and devoted business partner, advisor and service provider. I would also like to thank all my colleagues in our company for being highly professional, devoted, loyal and hardworking, a genuine differentiator that sets the guidelines towards our future and which makes them true specialized experts in our field and the market.
Tewfik Sabri Sabongui
Managing Director